The BEIGE ROOM
---
It's not only about Sleeping it's also about Living those special moments when you retreat from the outside world and enjoy some intimate time!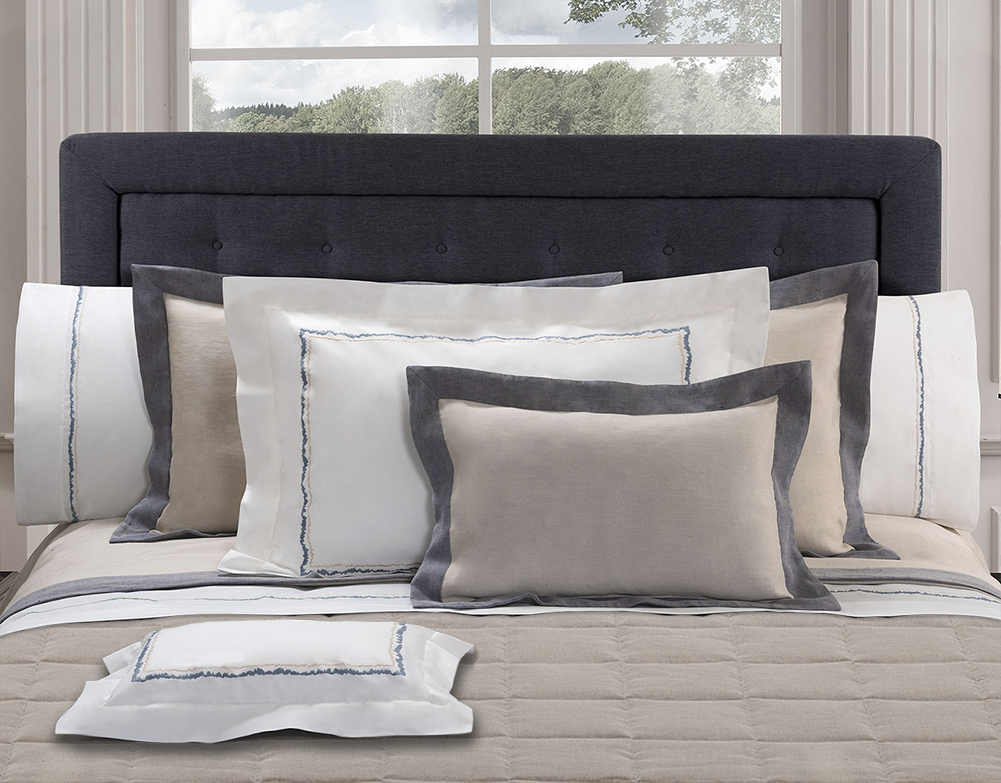 Decorating a bedroom with
NATURAL COLORS
I simply adore embroidered sheets!
Near Florence, Italy, there is an area known for passing on to next generations the traditional way of making luxury bedding.
That's where the ARNO Collection, by Dea, comes from! ARNO design has a particularly modern look thanks to the distinctive, highly stylized design that frames the shapes and emphasizes the beauty of the fabric.
The embroidery is made with a long-and-short flat-stitch, a traditional Italian embroidery stitch.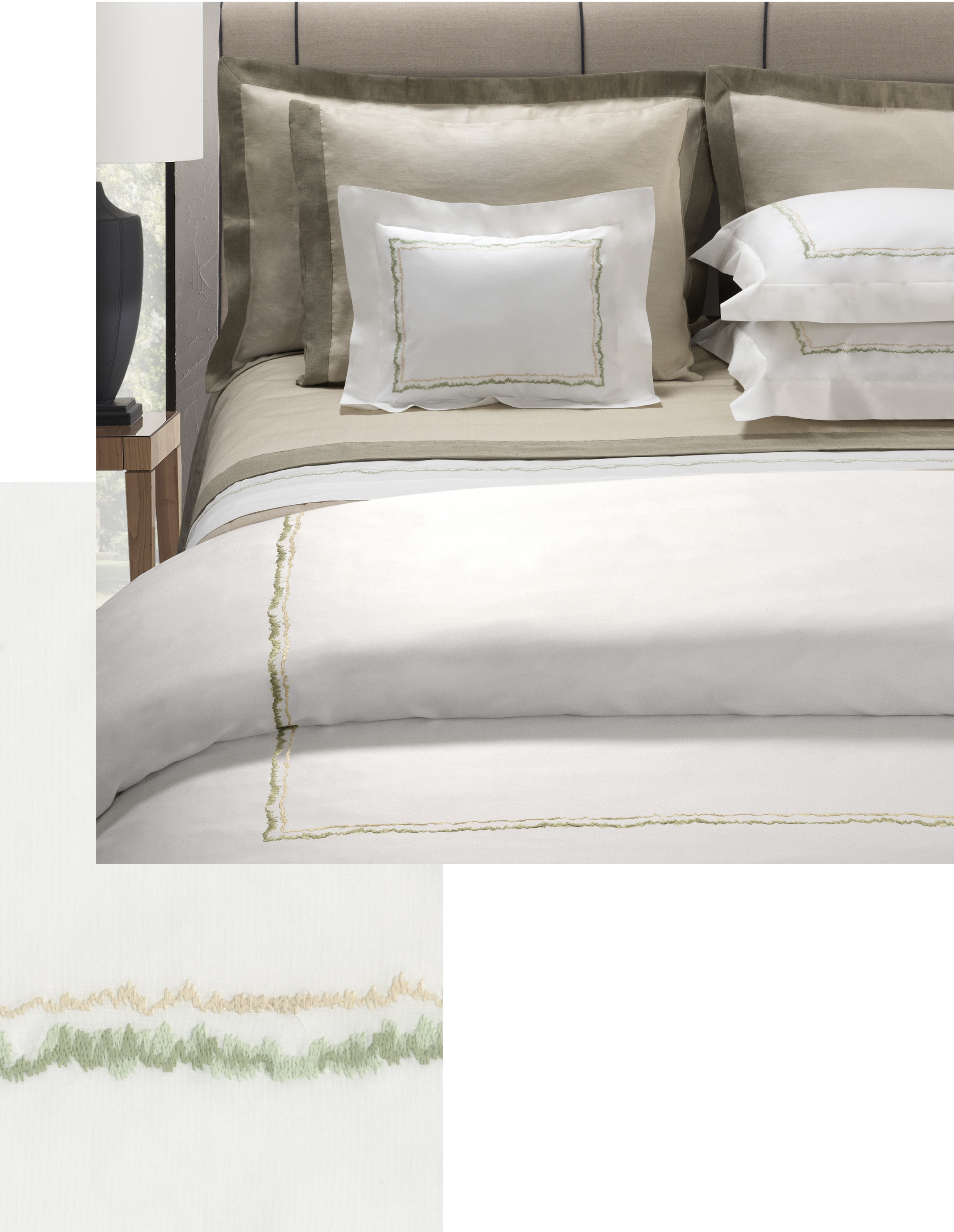 Different colors of yarns are used for the embroidery, arranged irregularly to ensure that the play of tone-on-tone color creates a particular chromatic effect!
AMBRA by Paolo Castelli is the ideal abat-jour lamp to create warm and elegant light accents in a bedroom.
This lamp is composed by a brass rod with a deep gold or ruthenium finish around which lucite discs and galvanic metal discs rotate creating a sophisticated effect of transparencies and reflections. Ambra is completed on its top by a precious silk shade.
Natural colours often create a warm peaceful atmosphere!
Another stunning collection that comes from Tuscany is LUCREZIA, made for Alessandra Home Moods by Bagni Volpi Noemi. It features an embroidery that reminds me of mosaic and tile shapes from past history but with a modern flair!
The combination between the finest Egyptian cotton, weaved in Italy, and the skillful hands of the workers assure a top luxury quality result.
It's so handy to have a stool or a bench next to a bed! This folding one from the OBJETS D'AUTEUR collection by Paolo Castelli is made in wood with a walnut finish and metal details in matt bronzed brass finish and Sand color leather with tone on tone stitching.
Decorate the wall above the bed with pictures you really love, that pick up bedroom colors!
GIOBAGNARA designs and produces in Genoa, Italy, a complete home accessories collection composed by exquisitely hand-crafted leather items, designed to be resistant and at the same time decor a home with extraordinary high-end flair. The finest leathers come in a multitude of colors and textures so it's easy to find just the perfect tone to match a bedroom decor.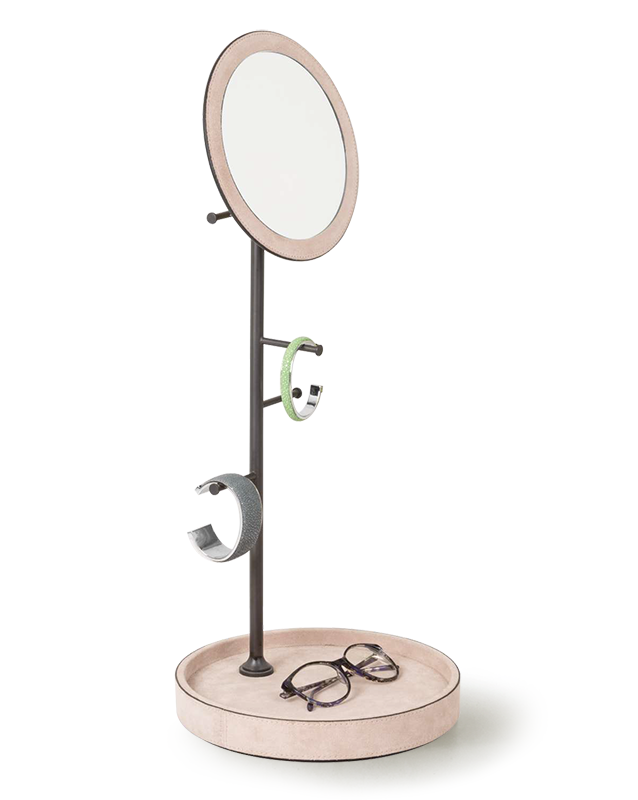 Handy and beautiful, The AURORA mirror has a wooden structure covered in fine leather as well with a double sided rotating mirror and the base serves as a valet tray.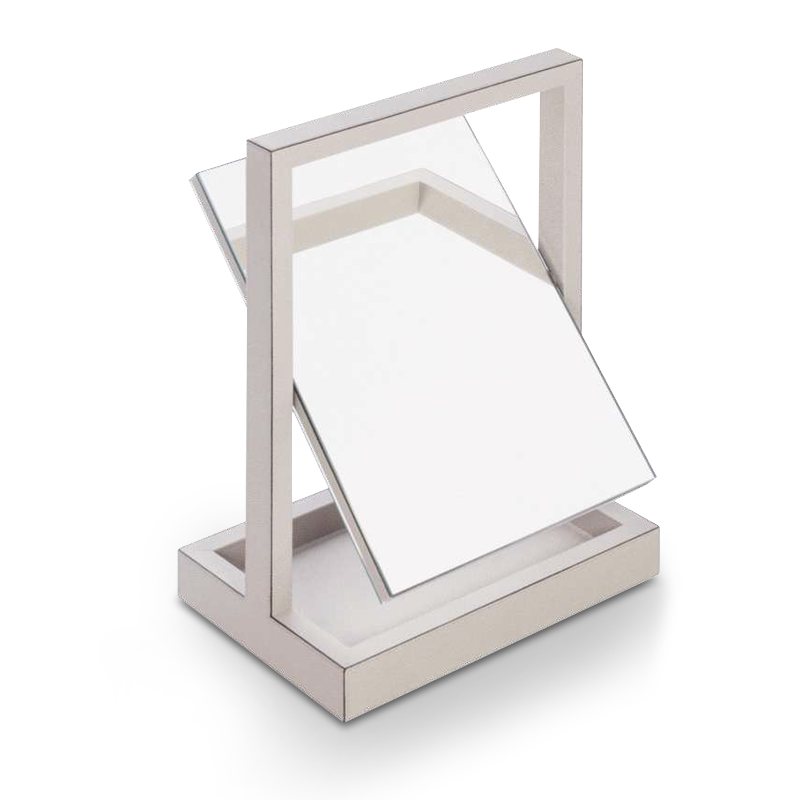 Hand-blown and handcrafted in Murano, Venice, by Venini the OPALINO vase is all about sophisticated and unique colors, thanks to the use of the traditional Opalino technique. Designed from the creative mind of Paolo Venini in 1932, the Opalino vase conveys pure gracefulness in its shape and among the many colors, the Taupe one is ideal to blend with natural shad
The LOGO table lamp was the very first product ever designed for Armani Casa, back in 1982, by Giorgio Armani himself: for this reason, it became the logo of the brand.
The satinated metal structure features a double lampshade in the shape of a truncated pyramid, made in ivory metachrylate. The iconic lamp is presented in a "mini" version perfect for a bedside table to create a warm atmosphere.
AMSTERDAM tissue holder by Giobagnara is also made in beautiful saddle leather for an extra touch of elegance.
The Italian designer Vito Nesta creates very elegant and refined wallpapers that have the power to take us to foreign places or travel in the past …contact us for more information
AMBRA box by Giobagnara is made in leather-covered wood with a natural stone on the lid as handle. Perfect accessory to place for jewelry on a bedside table!
AMBRA
Box square medium
by Giobagnara
AMBRA
Abat jour
by Paolo Castelli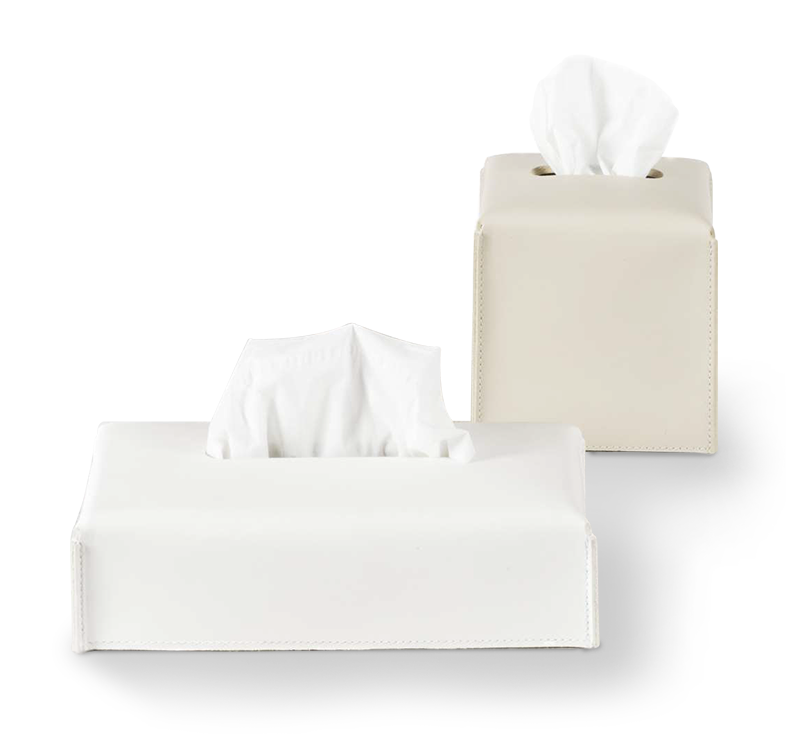 AMSTERDAM
Tissue holder
by Giobagnara
LOGO
Mini table lamp
by Armani Casa
STOOL
The Object d'Auteur Collection
by Paolo Castelli
OPALINO
Murano vase
by Venini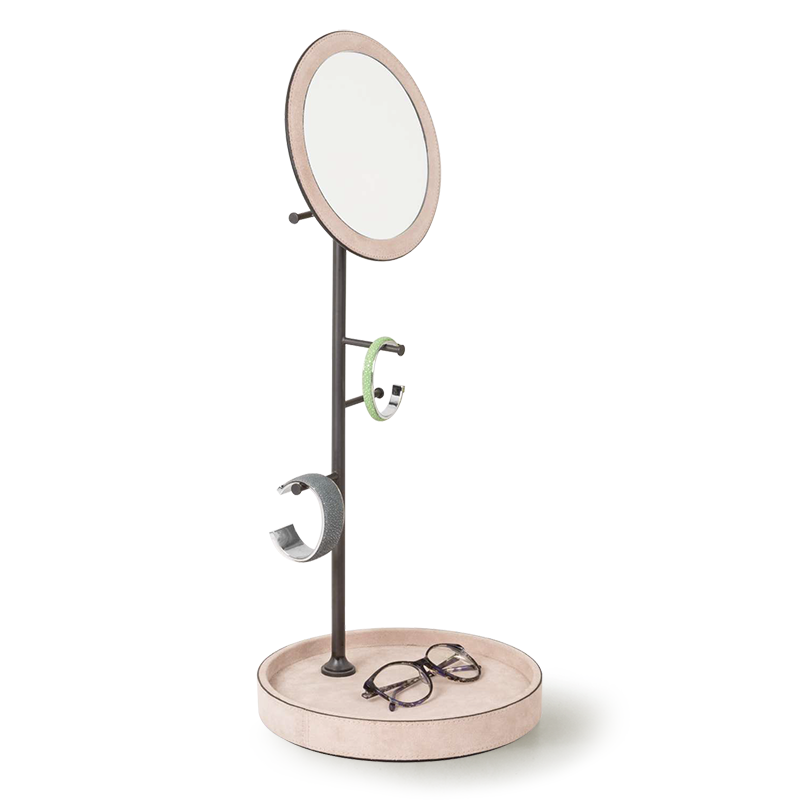 JEWELLERY TREE MIRROR
by Giobagnara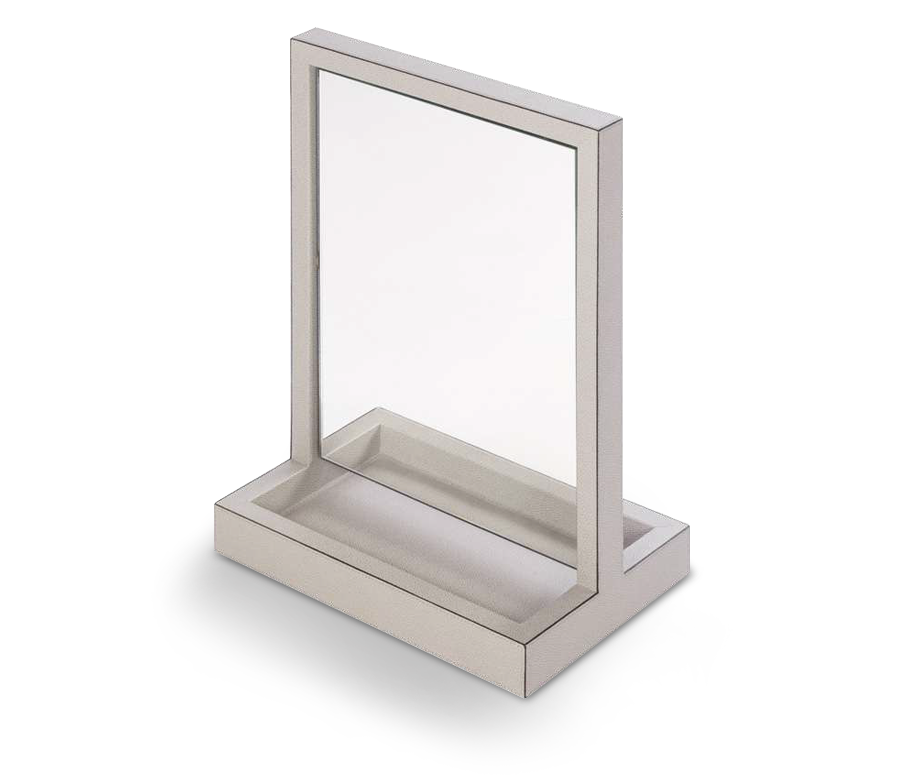 AURORA
Mirror with valet tray
by Giobagnara