Ready to set
a BLUE TABLE?
---
Blue evokes both the sky and the sea, two of my never failing sources of Good Moods… mixed with white, blue can then embrace practically any other color for flowers or accents, I personally think not more than one added color for example: blue/white and yellow or blue/white and pink are two of my favorites combinations.
It's not only for summertime or seaside homes, even the sea inspired patterns are fantastic if you are having a dinner or lunch based on fish or vegetables. Bringing beautiful patterns that speak of nature is never a bad choice no matter where you live!
Let's start with Jardin d'Eden, a fine porcelain collection made here in Italy by the designer Vito Nesta, one of the most interesting new creative talents in the home decor scene. Inspired by old historical patterns but rethought for a contemporary world, this complete set has a timeless although updated look.

Adding now these beautiful feather light Nason Moretti twisted blue glasses for white and red wine but available in a full range in the 3/62 collection. This iconic collection evokes the 60s with a minimal and both timeless look.
Totally handmade stem and twisted texture, crafted by the artists of the famous Murano glass firm, still a point of reference since 1926.
Alt-Spaten by Robbe & Berking is another never boring design. The collection features a spade pattern originated in this classic form at the beginning of the 18th century.
The expressive "ear" shape below the mouthpiece is particularly artistic. These "ears" can only be worked individually by hand, a detail that requires highly skilled silversmiths, which Robbe & Berking is know for.
Another stunning set of dinnerware is Menton Cristobal marine by Raynaud, It is produced in France using only the finest porcelain. The patterns, all in the prominent color of blue, differ from piece to piece creating a unique and extremely elegant table setting.
The Ercuis stainless steel Chorus cutlery collection has a modern style and an interesting design since each piece changes its shapet depending if look at it from the front or the back. An simple yet elegant set for both informal everyday use and sophisticated contemporary tables.
Why not add Riedel Fatto a Mano crystal glasses with a dark blue stem and choose the right glass for your favorite wine. A professional and renowned glass collection that it also ideal for wine tasting.
Alta by Robbe & Berking is a large 57×33 cm 90 gr. silver plated tray part of the Alta collection, a new creation for modern times, simple yet with unmistakable design and personality. No wonder this line was awarded prestigious prizes and is showcased in important museums as an example of exemplary contemporary design and silversmithing excellence.
Candle light everywhere is a must!
Candle light everywhere is a must!
Not only on the dining table but scattered everywhere around it!
My eye was captured by these ones, inspired by the magical world of the stories from 1001 nights.
This candle collection by Lladró,
the worldwide famous porcelain manufature in Spain, combines light and scent to create an enchanted atmosphere. The beautiful translucent hand painted fine porcelain holders have etched patterns that give a soft and luminous effect.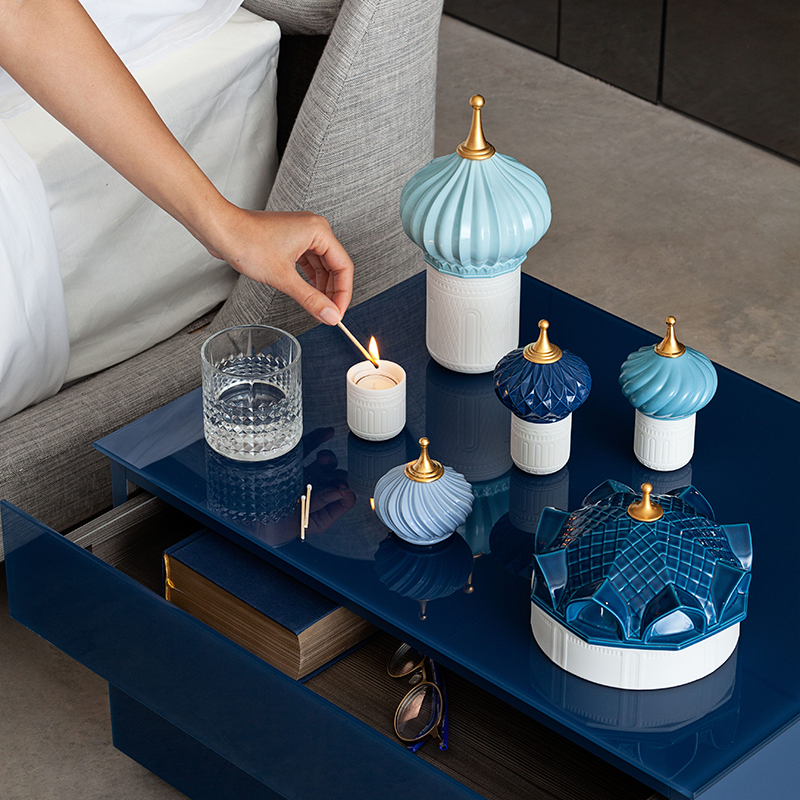 3/62 COLLECTION
Glasses
by NASON MORETTI
MARINE
Dinnerware
by RAYNAUD
ALT SPATEN
Flatware
by ROBBE & BERKING
RIEDEL FATTO A MANO
Glasses
by RIEDEL
1001 Night
Candle Collection
by Lladrò
JARDIN D'EDEN
Dinnerware
by VITO NESTA
CHORUS
Flatware
by ERCUIS
ALTA
Tray
by ROBBE & BERKING